People and Places in American Music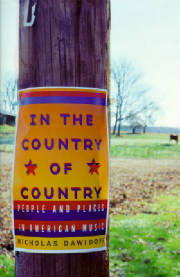 This particular page is an exploration of the performers, places, and experiences which form country music--a genre which is exciting, exhilarating, heart wrenching, joyful and uniquely and authentically American. From The Carter Family all the way throught to Emmylou Harris, with side trips to goodness knows how many places, we'll cover as much ground as we possibly can.Canada is well represented here as well, with Blue Rodeo and Cowboy Junkies, just to name a couple. You'll note that there are crossovers between this page and the Blues Odyssey page, you'll soon see why...there were some of the early country musicians who recorded blues tunes, and infact it is said by some, that Jimmie Rodgers actually wrote blues...witness The Blue Yodel material. Websites overlap as well, in particular The American Roots site, after all both Country and Blues are part of the American Roots music scene...anyway, time to go, the train is waiting at the station, and the whistle is blowing...let us begone.
Radio Boosts Country

Even before "hillbilly" music hit its prime, radio was becoming a new form of advertising. After the stock market crash on October 29, 1929, most people could not afford to buy luxuries like records; consequently, they listened to "free music" on the radio. In 1932-1933, record sales hit bottom while radio grew. 83% of U. S. households had a radio by 1938. Radio had become a popular avenue for music. Beginning its broadcast in 1920, KDKA in Pittsburgh was the first commercial broadcasting station in the United States. By 1921, there were eight stations in the United States. In March 1922, WSB, whose call letters stood for "Welcome South, Brother," broadcasted with 100 watts from Atlanta, the first radio station on air in the region. Three months later on June 13, 1922, WSB increased its power to 500 watts. John Carson performed on WSB, becoming the first "hillbilly" musician to perform on radio. By 1923, thirty stations were broadcasting in the United States. Meanwhile, in 1923, WBAP in Fort Worth, Texas, aired the first country music show in the West. In fact, on January 4, 1923, a fiddler played on the station backed by an orchestra; the fiddler was more popular with listeners than the orchestra. The listener opinion was similar in other parts of the country, and radio stations continued to pop up in the United States; by the end of 1923, there were 556 stations.

Several years later on April 12, 1924, Sears began broadcasting WES, whose call letters stood for "World's Economy Store." The station was used for marketing purposes, and the response was enormous. Shortly after, WES became WLS, "World's Largest Store." In this year, George D. Hay worked for the station prior to working for WSM in Nashville. On April 19, 1924, WLS held its first barn dance in the lobby of the Sherman Hotel. The WLS Barn Dance became known as The National Barn Dance, and it became one of the most famous of the barn dances that flourished during the time period. At one time during the station's earlier years, a Sears executive was angered by the square dance songs that were played on the station. He demanded the "hillbilly" show be canceled; listeners protested, and he changed his mind. At any rate, the station gained popularity, and in 1931, it increased its power to 50,000 watts. Around the same time, WSM was broadcast in Nashville, Tennessee. On November 28, 1925, Uncle Jimmy Thompson played the fiddle in the first broadcast of what we know today as the Grand Ole Opry®. The barn dance theme gained popularity, and various barn dances were broadcast in every region in the country

WLS. Chicago, Illinois

First Broadcast: 1924

WBT. Charlotte, North Carolina.

Crazy Barn Dance

First Broadcast: 1934

WCHS. Charleston, West Virginia

First Broadcast: 1927(?)


WLW. Cincinnati, Ohio

Boone County Jamboree/

Midwestern Hayride

First Broadcast: 1936

WHO. Des Moines, Iowa

Iowa Barn Dance Frolic

First Broadcast: 1932

WOWO. Fort Wayne, Indiana

Hoosier Hop

First Broadcast: 1932

KMBC. Kansas City, Missouri

Brush Creek Follies

First Broadcast:1935

KSTP. Minneapolis/St. Paul

First Broadcast: 1940

KMOX. St. Louis, Missouri

1930

no further details are available

WWVA. Wheeling, West Virgina

Wheeling Jambouree

First Broadcast: 1933

WHAS. Renfro Valley, Kentucky

John Lair's

Renfro Valley Barn Dance

First Broadcast: 1937

WMCA. New York, New York

Barn Dance

First Broadcast: 1935

KVOO. Tulsa, Oklahoma

Saddle Mountain Roundup

First Broadcast: 1938

KWKH. Shreveport, Louisiana

First Broadcast: 1936

There were many others: The Old Dominion Barn Dance on WRVA in Richmond, the Village Barn Dance in Greenwich Village in New York, the Tennessee Barn Dance on KNOX in Knoxville, the Bluff Creek Roundup on KOMA in Oklahoma City, the Ozark Jubilee on KWTO in Springfield, the Dinner Bell Roundup on KXLA in Pasadena, the WHN Barn Dance in New York City, the WSB Barn Dance in Atlanta, the Big D Jamboree in Dallas, the Hayloft Jamboree in Boston, the Sleepy Hollow Ranch in Philadelphia, and the Hollywood Barn Dance in southern California. Again, these barn dances were immensely popular, so much so that some were nationally broadcast starting with the National Barn Dance, which was broadcast on NBC radio network on Saturday nights; WSM began broadcasting with 50,000 watts in 1932 and was broadcast nationwide on NBC beginning in 1943. In addition, the barn dances were made into movies; in 1940, Republic produced the movie Grand Ole Opry. In 1944, Paramount followed suit with National Barn Dance, which was not as successful as the former. Consequently, cast members were radio idols; sponsors who promoted barn dances were "made." In short, Millard stated it best when he noted that "Radio was the main avenue to fame for the majority of hillbilly entertainers" in the 1920's and 1930's (37). As the Opry, the most famous radio show, began a transition from string bands to singers in the 1930's, superstars were made. Uncle Dave Macon became the first of those Opry superstars. At any rate, by the mid 1940's, 600 radio programs were being broadcast to 40 million people!



Legacy Recordings CK 065707 2000

Sony Music website

Vince Gill, Tony Brown and

Rodney Crowell; need we continue?

one of the great, early

stringbands, featuring

the very under-rated guitarist

Riley Puckett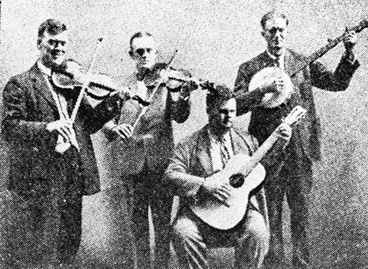 the Wikipedia definition,

and a good one it is too!

the UK home of

alt-country

(whatever that means)

a website dedicated to Americana

Music: which includes the edgier

country & folk singers, Hillbilly Twang,

some bluegrass, blues and rock. We place

a special emphasis on "Alt.Country",

Roots Rock and many small label and

independent releases. We love Country

music, as long as it's "real" Country.

the magazine for

alt-country

(whatever that means)

an incomplete guide

to alt-country

literally an a to y guide

to what's what

the official website

America's 2nd longest running radio show,

still being broadcast every Saturday night

Charleston, West Virginia
"That's all for now friends, Because the tall pines pine, and the pawpaws pause, and the bumblebees bumble all around. The grasshoppers hop, and the eavesdroppers drop, while gently, the ole cow slips away… George D. Hay saying so long for now. "